About Us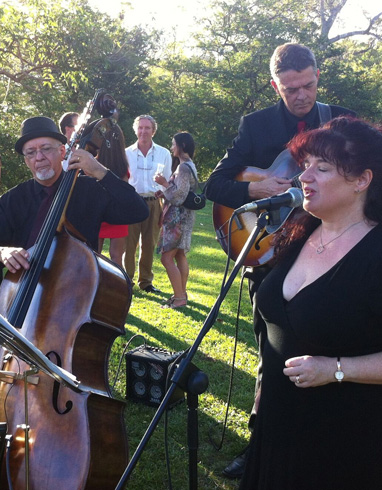 Sydney Wedding Music is owned and managed by musician and business woman Jane Hart. Her great passion is to enrich people's lives by providing live music for weddings and events.
Jane Hart has been involved in the music industry for over fifteen years. She is an accomplished flautist and jazz vocalist who has performed throughout Sydney, Newcastle and the Hunter Valley as well as in Japan. She has performed with a great variety of ensembles, including orchestras, classical ensembles and jazz groups of varying sizes, from duos to being a vocalist with a big band. Having performed at literally hundreds of weddings, events and concerts, she is eminently qualified to provide music for your event .
After graduating from Newcastle University with a Diploma of Music in 1991, Jane formed Recuerdos Trio and started her business, Jane Hullick Music, which later became Sydney Wedding Music.
Jane has continued to expand her music business, providing small music groups for weddings, parties and corporate events, as well as starting up numerous other groups according to demand. Jane hand picks all musicians who work for Sydney Wedding Music according to their individual skills, as well as reliability and attitude. Not only do they need to be excellent musicians, but they also need to be well dressed, punctual, versatile and have a professional attitude.
Jane is also a talented arranger so please let us know if you have a favourite song you would like to hear at your wedding or event.
They have performed in very successful concerts and soirees as well as hundreds of weddings, special events and corporate functions at most of Sydney's premier venues.